High Quality Printed Christmas Cards
For a quick and affordable way to say Happy Christmas
In addition to sending Company Christmas Ecards, why not also expand your reach with a set of high quality printed Christmas Cards to send out?
We can adapt one of our existing Static Christmas Ecard designs, or use a seasonal photo or illustration from our library to create your printed Christmas cards. Or you can send over an image or photo which we can adapt. We charge a small fee for designing your card, which is worked out from the time spent creating the artwork.
Landscape Christmas Cards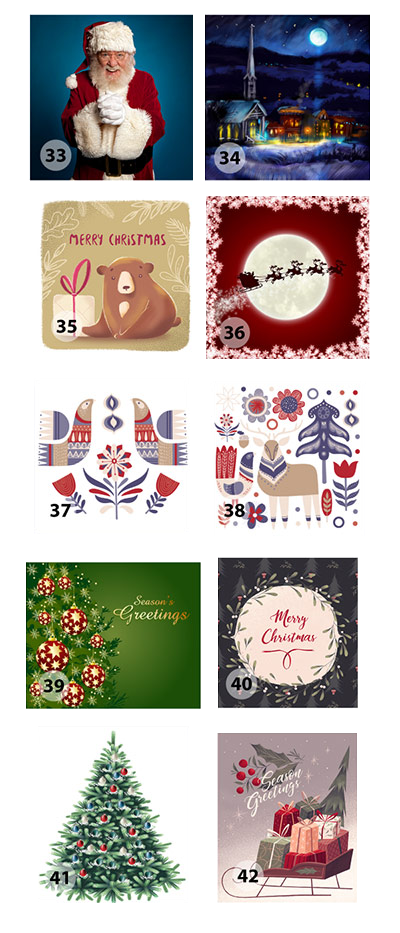 How much do printed Christmas cards cost?
Our print pricing has been designed to provide options for all businesses, big and small.
As a guide, prices for the most popular option: A6 Company Christmas Cards printed Double Sided on 350gsm silk, including white C6 envelopes, can be ordered in the follow quantities and prices:
• 20 copies: £75
• 50 copies: £85
• 100 copies: £95
• 200 copies: £110
• 300 copies: £130
• 400 copies: £150
• 500 copies: £170
• 1,000 copies: £200
All plus VAT and delivery, we can supply printed cards in greater quantities up to 20,000,
Contact Us for more details and a tailored quote for the size, paper finish and quantities you require.
Christmas Cards should be part of your marketing strategy
Christmas Cards, whether physical cards posted in an envelope, or Email Christmas cards are a great way to contact your mailing list with a positive seasonal message, thanking them for their custom and support through the year.
Your company deserves to be centre stage, Ecard Mint's premium print products put your brand in it's best light – the spotlight.
Printed Christmas Cards alongside an Ecard email campaign make you and your business look a cut above. It's a subtle difference that really stands out – perfect for networking, winning new clients, and making sure your card is the one they hang on to.

Change the way you deliver Email Campaigns forever