Whether its 10 emails to the team or 10,000 emails to your entire database, Acme can segment campaigns based on your contact's properties, how it will look in your recipients' inboxes, or even A/B test your Subject lines to ensure your message gets across.
With an Acme Ecard, you don't just send emails, our powerful sending infrastructure paired with our deliverability services, allows you to benefit both from the latest tech and a dedicated account manager to help you shape and maximise the success of your email strategy.
Stand out with beautiful emails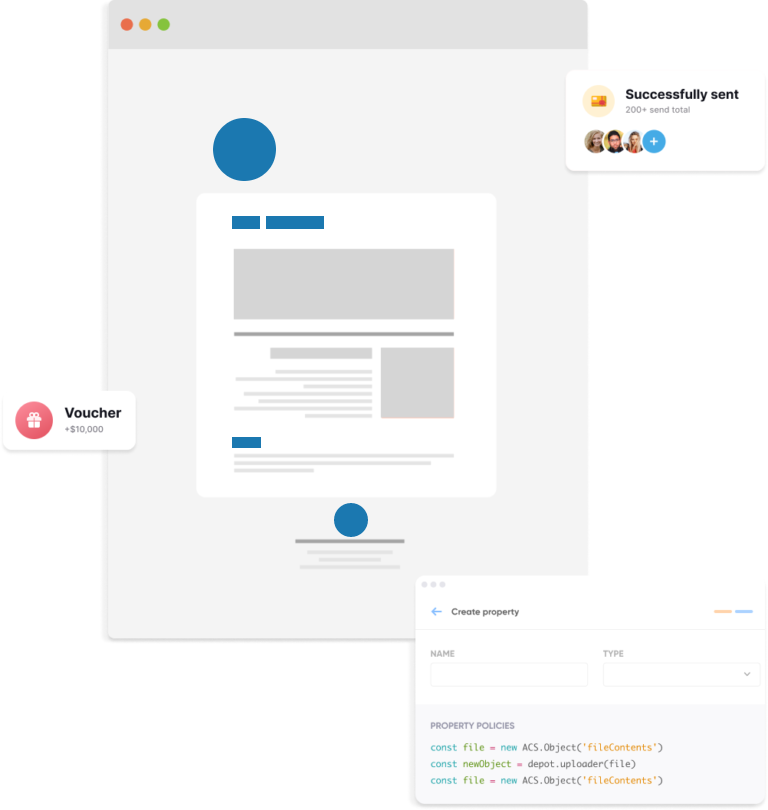 Stand out with beautiful emails
Whether you want to promote a product or tell your story, an Acme Ecard design can fit every message.

Our emails are inbox friendly, what does that mean? First being Mobile friendly our campaigns will be responsive across every popular device and browser. Second our email client friendly designing campaigns work with Gmail, Outlook and more, from the very first pixel.

Dark Mode is taking over email inboxes in 2022. Your emails will support light and dark interfaces matching the user's preferred settings. Increase accessibility and send smarter emails with Acme.

Engage your audience for better ROI
The Smarter Way to Deliver Emails
We help you design lovable user-friendly emails aligned with your branding guideline and your users' behaviours
Discovery
Start with user research to better understand your user's needs and define business requirements.
Copywritting
Map content, define the tone of voice and optimize UX copy according to your user's journey.
Design
Reusable components and email design systems in line with your brand guidelines. Send over and over again.
Delivery
We can deliver your campaign's in multiple formats via SMTP, Code and Figma to name a few.
Dive in and take a closer look at our features:


From creative design, copywriting and stand out visuals, to improved deliverability. Raise the bar across all your marketing emails, when Acme sends your campaigns.


Make each customer feel special, personalise your email based on your contact's properties, from how it looks in your recipient's inbox, to the content they read.


Segments make contact list insights more actionable, so you know who you're talking to and how to talk to them. Send relevant content at the right time no matter where in the globe your customers are.


See what's working in your email campaigns and track your sales with our Reports. Drill down into where people clicked in your emails via Click Maps, so you can tailor your content for more engagement.


An email address is your first line of communication with a customer so make sure you reach them. With 30% of emails going bad in just one year, it's time to spring clean your email lists and CRM with our list cleaner.


Broken emails mean lost sales. How does this email look? View your campaign across popular email clients and 90 other devices including mobile, making sure your campaign is always delivered as expected.


Allow Acme to manage your email sending throughout the year. With over 10 Years of experience sending Email Campaigns, Newsletters and Christmas eCards for some of the largest brands around.


We started as animators and have worked with the BBC, Netflix and many more. We create lightweight animated Ecards, HTML Animation and GIFs for emails, that works across any device and platform.